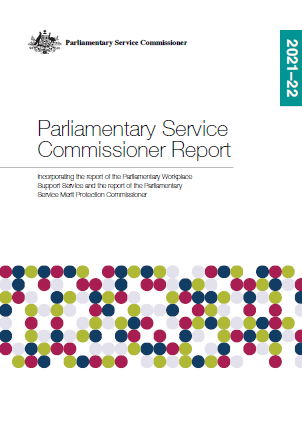 Incorporating the report of the Parliamentary Workplace Support Service and the report of the Parliamentary Service Merit Protection Commissioner
© Commonwealth of Australia 2023  
ISSN 1032 0350  
ISBN 978-0-6453376-7-9
With the exception of the Commonwealth Coat of Arms and where otherwise noted, all material presented in this document is provided under a Creative Commons Attribution 3.0 Australia licence (http://creativecommons.org/licenses/by/3.0/au).
The details of the relevant licence conditions are available on the Creative Commons website (accessible using the links provided) as is the full legal code for the CC BY 3.0 AU licence).
The document must be attributed as Parliamentary Service Commissioner Report 2021-22.
Enquiries
For enquiries concerning reproduction and rights in Commission products and services, please contact media@apsc.gov.au.
---
The Hon Milton Dick MP Speaker of the House of Representatives  
PO Box 6022  
House of Representatives Parliament House Canberra ACT 2600
Senator the Hon Sue Lines President of the Senate PO Box 6100  
Senate Parliament House  
Canberra ACT 2600
Dear Mr Speaker and President
PARLIAMENTARY SERVICE COMMISSIONER REPORT 2021–22
In accordance with Section 42(1) of the Parliamentary Service Act 1999, I present to you the Parliamentary Service Commissioner Report 2021–22.
Yours faithfully
Peter Woolcott AO
27 January 2023
Resource
This report is also available as a downloadable resource: